The London Palace Superbowl
London Palace Superbowl
First Floor
Elephant & Castle Shopping Centre
London
SE1 6TE
Phone 020 7277 0001
Fax 020 7227 4104
Email london@palacesuperbowl.com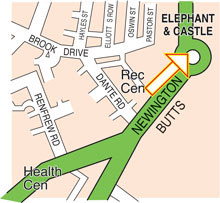 Our London Palace Superbowl is located on the top floor of the Elephant & Castle Shopping Centre just south of the river in London. It is easily accessible by all modes of public transport.
Our staff at the London Palace Superbowl will be very happy to assist you with any enquires. Feel free to ring them to discuss your corporate or private party arrangements.
If you wish to make a booking to come and play at the London Palace Superbowl as an individual, group or corporate or private party then please use our
online booking form
or call 020 7277 0001.